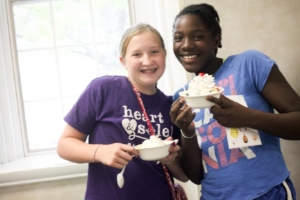 What if there was a program that, instead of encouraging your daughter to develop a particular skill, encouraged her to develop a truer, deeper sense of herself? A program that inspired her to begin to figure out who she really is before the world tells her who she should be, that launched her on a journey toward authentic self-reliance and away from what can become an overwhelming preoccupation over how she's perceived? Oh, and what if it was fun-really fun, like a smart slumber party where she's encouraged to take wise risks out of her comfort zone and to take things seriously, without taking herself too seriously? We're talking about a real gift, a transformative opportunity. We're talking about GirlsUP.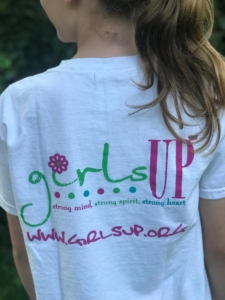 Since 2008, through our weeklong summer programs, GirlsUP has been inspiring girls between the ages of 10-13 to:
think creatively
communicate effectively
assess choices critically, and
develop an authentic self-reliance.
GirlsUP Girls are encouraged to know their own minds and to speak in their own unique voices; to question society's often uninspiring message that girls are valued only if they are popular, pretty and perfect; and to reveal their true character through choices, big and small. And they are challenged to think beyond themselves and to approach the world with curiosity, empathy and generosity. We inspire them to do all of this through interactive discussions and activities based on the five pillars of our program: self-awareness, self-image, self-expression, self-reliance and self-giving.
Below is a sample schedule of a GirlsUP Summer Program:
DAY ONE
Self-Awareness: "To Thine Ownself Be True"
The girls will be led through a fun, interactive self-assessment of their unique character, strengths and spirit, including selecting their own mantras and theme songs to reflect their personal philosophy. Yoga instruction will fuel an awareness of mind, body and spirit.
DAY TWO
Self-Image: "To Be and Not to Seem."
The girls will explore the authenticity of their own self-image, and will question their barometers of worth, including how cultural influences affect how they see themselves. They'll deconstruct the hidden messages being communicated about a girl's value in everything from Snow White to Maybelline magazine ads.
DAY THREE
Self-Expression: "Looking the World Straight in the Eye"
The girls will focus on clearly and effectively speaking in their own voice and embracing opportunities to speak publicly. Through a series of dramatic improvisations, they'll speak up and out, navigating responses to challenging social situations. An artist will discuss how she found her voice through creative expression.
DAY FOUR
Self-Reliance: "Standing Strong When it Counts"
The girls will address how to exhibit self-respect, character and independence in critical decision-making. Through a series of creative exercises, they will explore their own intuitive instincts and develop strategies for staying true to themselves in moments of uncertainty. A martial arts instructor will lead them through a fun and practical class on self-defense.
DAY FIVE
Self-Giving: "A Girl for Others"
​The girls will be encouraged to look beyond themselves and reveal their true character through choices big and small. They will create and present their own design for a monument that stands as a beacon of hope to inspire other young girls. Advocates from the United Nation's Girl Up Campaign will interact with the girls, sharing their own personal journeys and showing the girls, by example, how to integrate passion, belief and a sense of service into their lives.