Program Director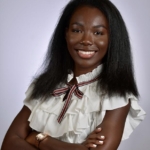 Serena Bradshaw Serena is originally from Miami, Florida, and obtained her B.S. in Psychology and African American Studies from Florida State University, where she graduated with honors. Serena is currently in the Counseling Psychology Doctoral program at Howard University and has a passion for helping youth explore and develop skills related to self-esteem and identity. Serena is also passionate about education and mental health within communities that are disproportionately affected by injustices and hopes to one day have her own holistic wellness practice where she will focus on culturally-relevant therapy, assessments, and interventions from a cultural and faith-based lens.
Kelly Tanzi is an experienced Middle School educator who currently is a fifth grade teacher at The Woods Academy in Bethesda, Maryland. Kelly holds her degrees from American University and Seattle University.
Alexandra (Alex) Peacemaker has been with GirlsUP since 2019. She teaches the Sixth Grade at Holy Child in Potomac, Maryland. Outside of teaching, Alex is the Middle School basketball coach and runs the Student Government program at Holy Child. Alex holds a B.A.  in Education from Washington College and a Masters in Administration and Supervision from Marymount University.
Christine Milne is an experienced educator and mother of two. A Resource teacher at Blessed Sacrament School, Christine is a certified Reading Specialist who holds a degree in Elementary Education from East Carolina University. She has been with GirlsUP since 2017, and also has worked as a camp director for Montgomery County Summer Camps.
Communications Lead

Annie Kiyonaga recently graduated with a B.A. in English and Art History from UNC-Chapel Hill, where she was a Morehead-Cain Scholar. Annie has written for a number of publications, including The Daily Tar Heel, The Exberliner, Atlantic Public Media and other online cultural outlets. Annie also served as the Co-Director of Art & Life at UNC-Chapel Hill, an organization committed to increasing art access and education to underserved middle school students. Annie has been involved in GirlsUP since she was 12, first as a GirlsUP camper, then as a Teen Board Member and later as a Summer Program Teen Facilitator. She also served as a Teen Advisor to the United Nations Foundation's Girl Up Campaign. Annie is thrilled to be working as GirlsUP Communications Lead.
Summer Teen Board Liaison
Jillian Murray is currently a media analyst working for the consulting company Teneo in New York City. She recently graduated from Columbia University with a degree in Economics.